The potential rewards of hiring an apprentice applies to businesses of all sizes across most industries, so if apprenticeships are unknown territory for your organisation you might want to read on to discover the many benefits they can have on your business and people (we've listed 7 of the main benefits below).
Considering the impact the pandemic has had on the unemployment rate in the UK and the increase in people claiming Universal Credit, the potential to finding outstanding apprentices has never been bigger. Sadly. And for the same reason apprenticeships are more important than ever.
In short, hiring an apprentice could be an effective way to add manpower to your team and develop a motivated, skilled and qualified workforce, while getting financial support from the government. It's a brilliant way to open up your talent pool to individuals of all backgrounds and ages and therefore increases diversity, but also a clever way to upskill and develop current employees, which will have a positive impact on staff retention and overall moral.
We at Vertical Advantage have first hand experience of hiring apprentices, and we've outlined one particular success story below that might inspire.
First thing's first – who can apply for an apprenticeship?
Taking England as an example, anyone over the age of 16 (although some workplaces may impose a minimum age of 18 due to health and safety regulations) can apply for an apprenticeship. This means you can employ apprentices at different levels, from school leavers and university graduates, to people who want to further their careers or change career direction completely.
A common factor as to why many young people choose the apprenticeship route is because they are looking for an alternative to going to university and consequently avoiding debt. In 2020, students graduating from English universities will have incurred an average of 40.28 thousand British pounds of student loan debt.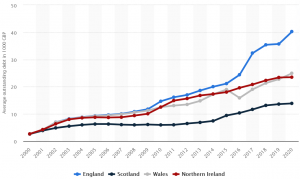 What are the benefits for the apprentice?
Short answer – many.
Long answer – keep reading.
Apprenticeships…
…opens doors to people of all backgrounds.
…don't make people choose between furthering their education and getting a job.
…don't get people into an eye-watering amount of debt that usually follows a university degree.
…can help people accelerate and futureproof their career.
…allows people to earn while they learn in a sector they've chosen themselves.
…could mean the apprentice starts on a lower starting salary than a graduate, but they start earning much earlier, and don't have student debt hanging over them.
…can give people an edge over a graduate applying for the same role, as they already have solid experience and understanding of work culture.
…gives people invaluable industry experience – while getting paid.
7 benefits of apprenticeships
1. Government funded training. As an employer, you can get funding from the government to help pay for apprenticeship training. An apprentice must spend at least 20% of their time completing off-the-job training, but the style, location and timing varies.
It's important to note here that you can adapt their training according to your business needs, so the government is essentially paying for some – if not all – of the cost of you moulding your next star employee.
2. Existing staff can be freed up to work on other projects. Although it completely depends on the situation, the apprentice is likely to take on more junior tasks to begin with, which frees up time for other more senior team members. There's an extra pair of hands in the room.
3. Expand your workforce in a cost effective way. Let's not beat around the bush – hiring an apprentice is cheaper than hiring a permanent employee.
Salaries are decided by the business, but you'll need to pay a National Minimum Wage rate that specifically applies to apprentices, and there are different rates of pay depending on age and what year of the apprenticeship the individual is in. Find out more about the rates here.
4. Improve staff retention. Apprentices feel valued in the workplace, they are loyal employees and this improves your staff retention and helps to build and sustain a strong team ethic within your company. On successful completion of the apprenticeship, many firms choose to keep on their young recruits (employers retain around 90% of their apprentices) and help them to progress further.
This promotion from within eases the burden on your future recruitment needs and also means your staff know exactly what is required of them.
5. Upskill and fill skills gaps in your business. Apprenticeships aren't only suitable for bringing in new employees, they're also ideal for upskilling or retraining existing employees – of any age, and at any level.
Investing time and effort into developing existing employees creates loyalty and they are far more likely to a) stay with the business and b) become a brand ambassador and speak well about your company to others. Word of mouth might be the oldest marketing tactic in the book, but positive feedback and referrals are still king.
6. Young people can offer a fresh perspective and a new dynamic. Diversity in the workplace isn't only about cultural, racial, religious, gender, sexual orientation, disability etc. Age is also a key differentiator for businesses that value diversity.
7. In a time of need, do your bit. Attitudes towards apprenticeships are undoubtedly changing and they are increasingly seen as a dynamic addition to recruitment options for employers. Not only are you doing your bit as a business to help the unemployed, you get access to a huge pool of talent that are generally devoted, committed and extremely willing to learn. Who wouldn't want their brand to reflect this?
According to a recent government study:
86% of employers said apprenticeships helped them develop skills relevant to their organisation
78% of employers said apprenticeships helped them improve productivity
74% of employers said apprenticeships helped them improve the quality of their product or service
One thing to bear in mind is that many of the difficulties faced with apprentices are due to them being picked up early in their development cycle. Bear in mind that this rawness and ability to be moulded is also one of their biggest strengths.
Our own apprenticeship success story
We couldn't write this article without highlighting one of our own success stories – Selina.
Selina joined Vertical Advantage as an Associate Consultant at the end of 2019 as a 180 recruiter with candidate management being her main focus. She started off by making a placement in month two, and ended up being our top performer for several months the following summer, in the midst of a global pandemic and serious economic downturn.
Offering her a permanent position in July, a few months before her apprenticeship was supposed to finish, was a no-brainer. To mark the occasion our team surprised her with a virtual graduation party (pink gown and cap for her – 'Selina' themed fancy dress for the rest of us…) via Zoom.
We can't stress enough how valuable it can be to open up your potential talent pool to young individuals and add someone to your business who's consciously made the decision they want to work, learn, are committed, and ready to prove themselves.
The business that helped us find Selina was LDN Apprenticeships, so we can definitely vouch for the quality of candidates they have access to. If you're keen to find out how they might be able to help your business visit their website or get in touch with our founder David Jenkins and he'll make the introduction (david@vertical-advantage.com).